If you are looking for something to do on August 21 – 23, you should come hang out with me at PuppetConf in San Francisco. I can even give you $150 off the registration fee using the code "speaker150off".
While the main part of the conference is on August 22 and 23, we are hosting a Developer Day (free with conference pass) on Wednesday, August 21st where you can spend the day with our developers and other community members while building modules, contributing to open source projects, working on documentation and much more. You pick the projects you want to work on, and we'll have plenty of people around to help.
I'll also be speaking at PuppetConf to talk about The Puppet Community: Current State and Future Plans on Friday at 1:10pm. This presentation kicks off a community track where we have several more sessions about how to participate in the Puppet Community.
Those of you who know me won't be surprised to see that I am also bringing Werewolf to PuppetConf. We will be playing werewolf on Wednesday and Thursday evenings, and I'll have some gift decks to hand out to the winners! 🙂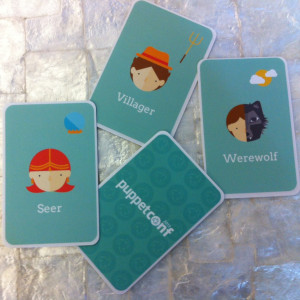 We also have many interesting sessions, plenty of other activities (5K, parties, games) and much more. I hope to see you there!