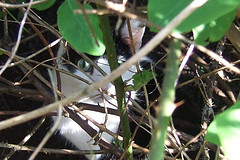 I started working at Puppet Labs during the last week of September. During the interview process and in the first few weeks, I made sure people knew that I would spend my first month or two lurking in the community while I learned about how people participate in this community. I've been working with open source and communities for more than a decade, but this is still an essential step when you are new to a community as a community manager*.
I've seen too many over-eager new community managers jump into the community early and make mistakes by violating community norms, talking about things that aren't relevant, making people unnecessarily upset, and just generally making a mess of things. Every community manager makes mistakes at some point, but here I'm talking about the issues that could have been avoided by knowing more about the community before jumping in with both feet.
Don't be afraid to let other people do most of the responding while you learn from them. By taking the time to observe and lurk for a bit, you can learn about how people behave and get a feel for how people typically respond.
This doesn't mean that I spent my first month sitting on my butt. As part of the learning process, I spent a lot of time talking to other employees about what works well in the community and about what isn't working. As a part of talking about the things that weren't working, I focused on what was causing the most pain for our engineers and started thinking about how we could make things better. I came up with a big list of things to tackle and started talking to people about plans for improving some of the community processes that were the most painful. I've started working on a few of these already, and others are in my 2013 plans.
I also worked on a lot of documentation and improvements to website content during this first month. We really didn't have community guidelines or other standard documentation. Since community guidelines are relatively similar for many open source projects, I got a good start on those in the first month. I also focused on getting monthly community metrics published. I actually got a ton of work done during my first months. It just wasn't publicly visible work.
Don't be afraid to work behind the scenes for your first month or two while you learn about the community. If you make sure that your manager and colleagues know why you aren't publicly visible while making sure that your work behind the scenes benefits the company, people are more likely to see it as an important and necessary part of the process of starting this new job.
Additional Reading:
*If you were hired out of a community where you have already been participating or are hired to work on a newly launched community, this advice probably doesn't apply to you.
Photo by Stephen Jones used under a Creative Commons license.