Wow.
I really had a fantastic time at the MeeGo Conference in Dublin last week. Over the past 9 months in the MeeGo Community, I have spent a lot of time getting to know people over IRC, email, forums, and other online tools. You can get to know people pretty well online, but there is just no substitute for face to face interactions and getting to know people in real life. I got to know people better and met so many new and interesting people that I can now keep up with online in the community.
I was one of several organizers for this conference, and from an organizer's standpoint, the conference wildly exceeded all of our expectations. While we were initially hoping we could find 600 people who would attend, we ended up with almost 1100 attendees from 51 countries. Amy Leeland, our lead organizer for the event, proved to be a complete rock star; almost everything went according to plan and the few things that didn't, she handled with a professional get it fixed attitude. We also worked with Portland design company Quango on many of the design and event logistics, and they were honestly one of the best vendors I have ever worked with.
In this post, here on my personal blog, I'm not going to do a full report-out on the conference (we'll save that for the MeeGo blog), so I'll focus the rest of this post on the community aspects and my personal experiences.
The community was very engaged in the event: organizing early bird sessions, volunteering to help out whenever we needed it, and working and playing together in the hacker lounge until the wee hours of the morning. I also led the unconference day, and I'm always nervous about scheduling an unconference at the end of an event when people are tired and have been watching presentations all week. I've seen too many unconference days become the time when people leave early or spend the time in a corner catching up on email. In this case, I was very pleased that the unconference day was a success with attendees presenting in every available space (more than 45 sessions) and staying engaged throughout the day.
One of the keys to getting good community participation and getting attendees to hang out together is to have evening events that are more interesting and fun than what most people would decide to do on their own. Add free food and drinks to the mix, and you really can keep everyone together well into the evening. The Guinness tour and the football game, for example, drew large crowds, and people really did seem to have a lot of fun.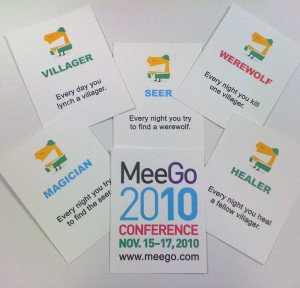 The best part of the conference from a community building perspective was the 24 hour hacker lounge where people gathered after the evening events ended to work on projects, hang out and play games. We used this space to play many, many games of werewolf often lasting past 3am. Werewolf is one of those games that I really like to bring to conferences because it gives people a chance to get to know each other. It gives the quiet guy who doesn't really know anyone something to do and an excuse to meet new people, and it puts people on a level playing field where the company executive, the university student and the internet famous are all equal as werewolves and villagers. It gives people something in common to start the conversations while they learn enough about each other to find other things in common. Many of us tend to talk to the people we already know, which keeps us in our own little friend bubbles that can seem cliquey even when not intended to be. Werewolf is an excuse to talk to people that we don't know and otherwise might not have met. Unlike those other team building and conference games, people really seem to enjoy werewolf. I don't play werewolf just because I love it. I play it because it builds community.
Other interesting personal notes from the conference and Dublin:
Organizers are too busy to eat – I made too many meals out of wine and peanuts in the hacker lounge.
Jetlag worked to my advantage allowing me to play werewolf until after 3am, and I didn't really crash until the plane ride home, so the timing was perfect.
In Dublin, like many cities in Europe, you have to look hard for street signs. In this case, they are blue and nailed to a random building or fence somewhere near the intersection.
You can find good vegan hippie food in Dublin – as always, look for it near a university.
Thanks again to all of the new friends I met and the old friends that I had time to hang out with. I'm already looking forward to the next MeeGo Conference in May!
Photo credits: